First 50cc race held under DMU (Danish Motor Union) management
took place at Roskilde Ring, 25 september 1955. One class
contained in the programme was a race for modified- mopeds.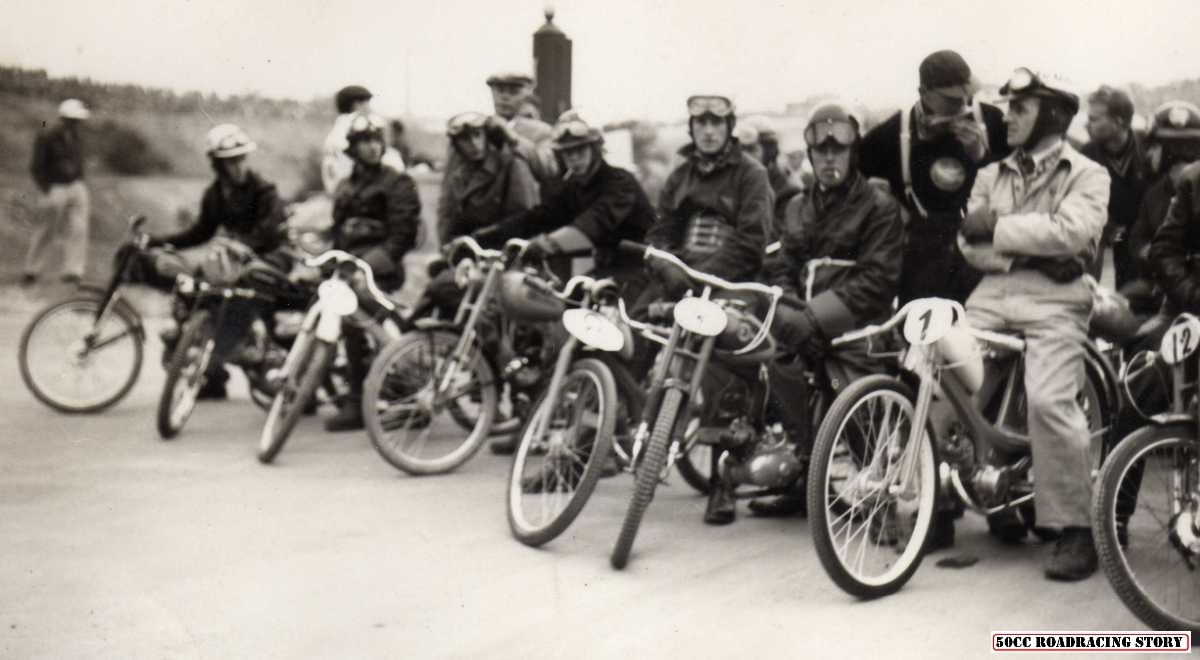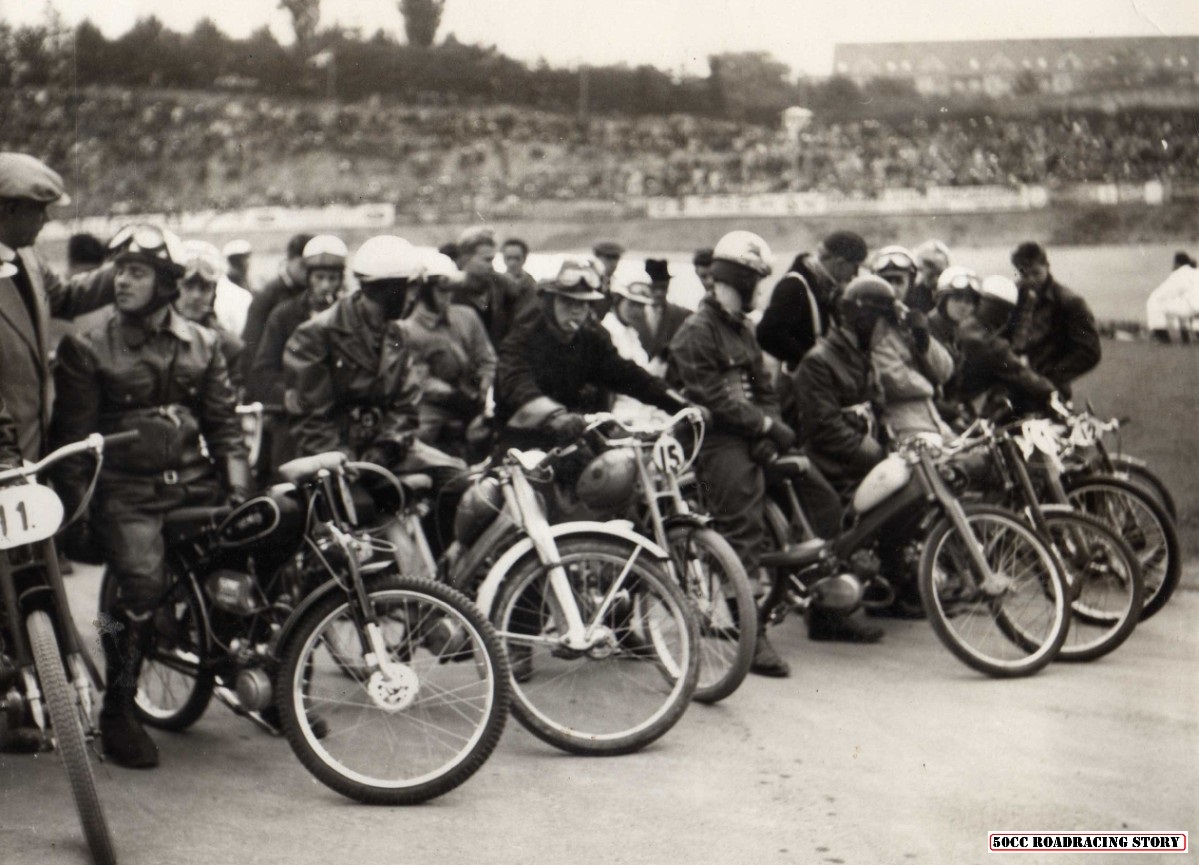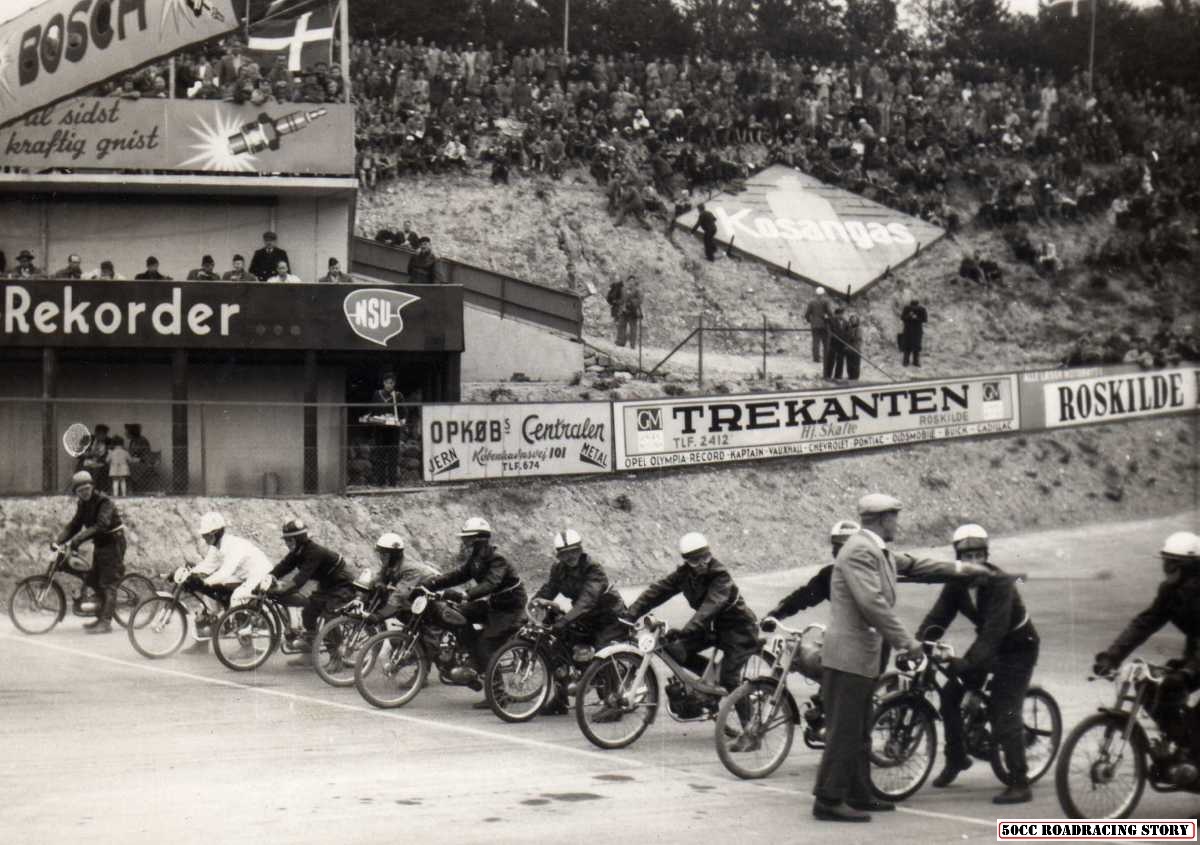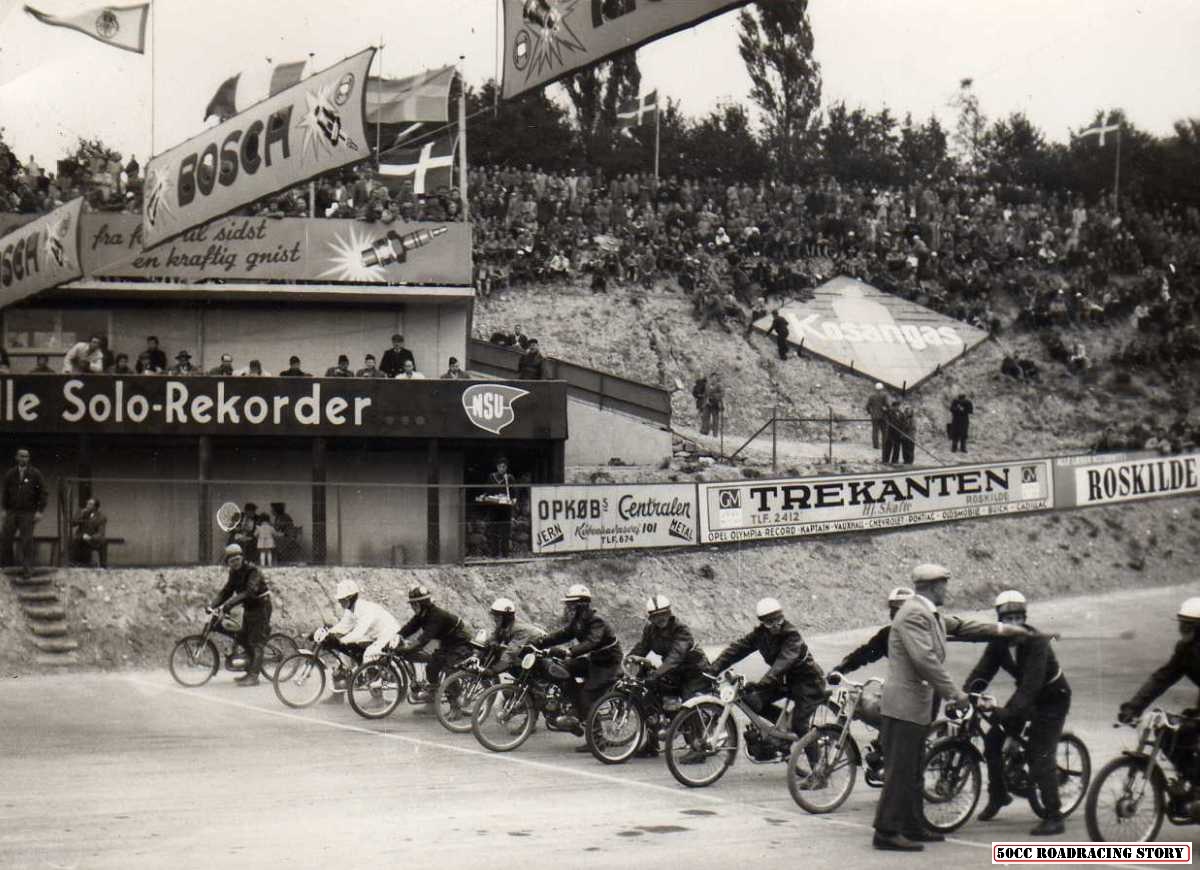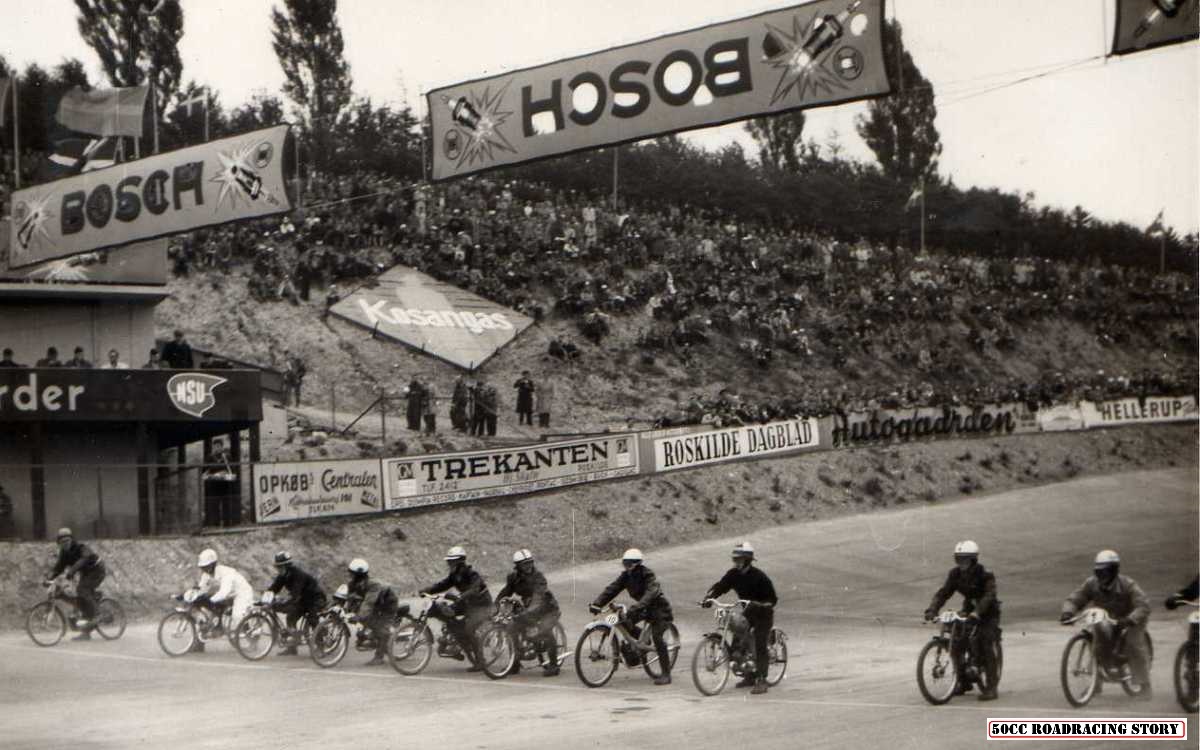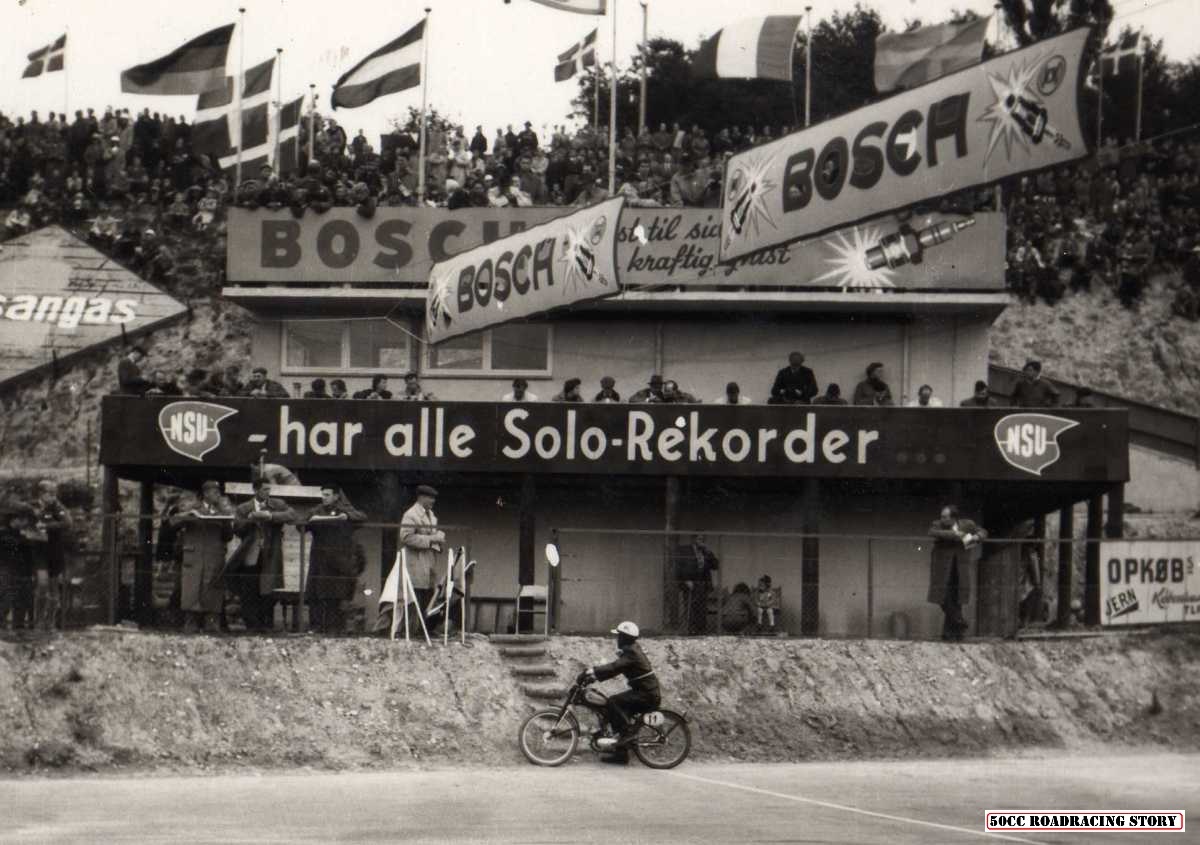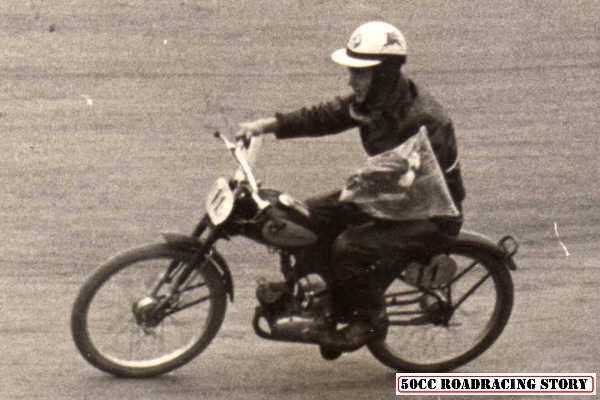 Ten years later at Roskilde Ring: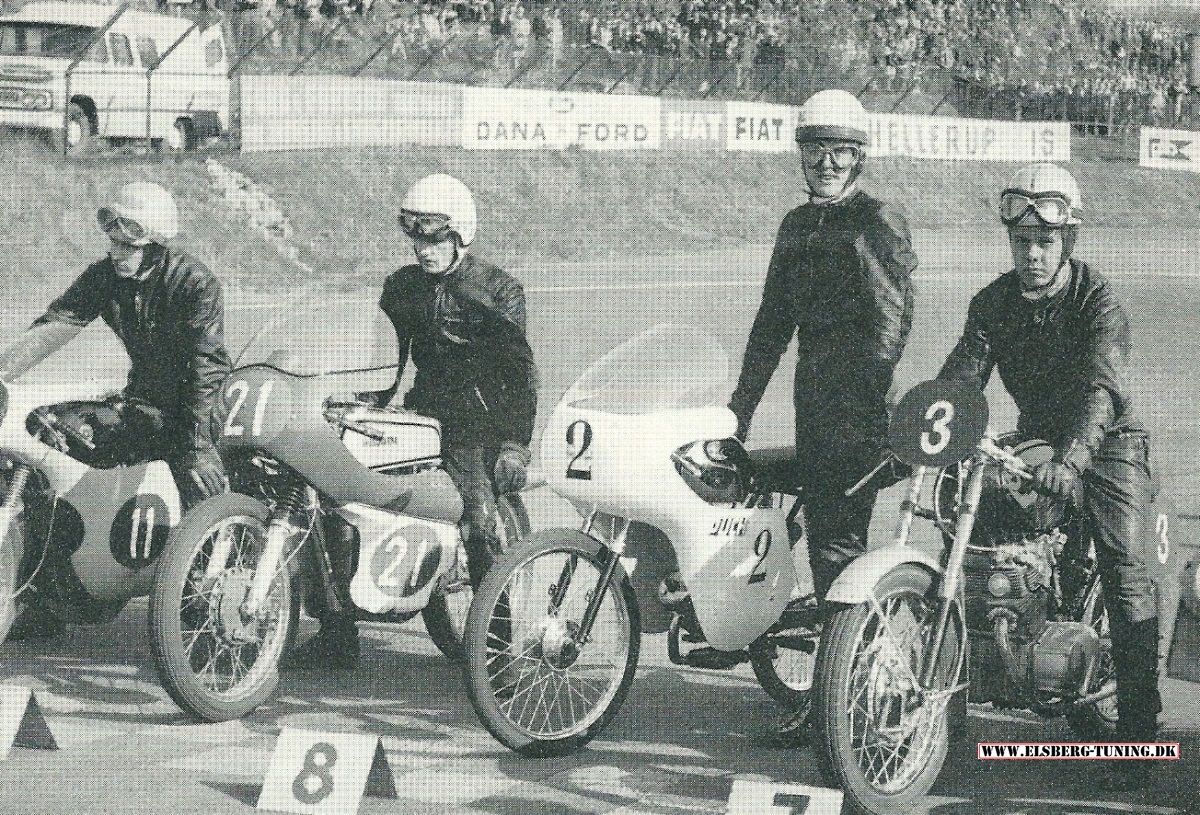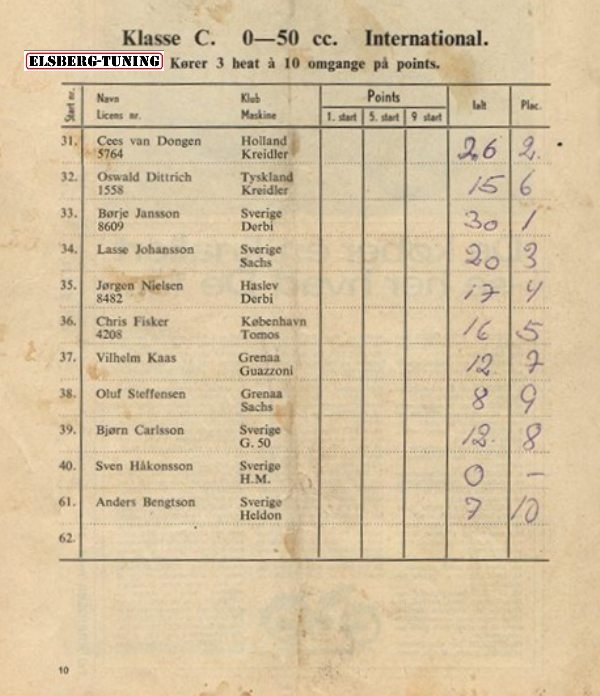 In 1965 there was an invitational 50cc race held at RingDjursland with riders from Germany, Holland, and Sweden present.
J.A. Hansen, Danish Kreidler import, had succeded in getting two works- Kreidlers to the race with riders Cees VanDongen and Oswald Dittrich.
Following pictures are from the three heats that day: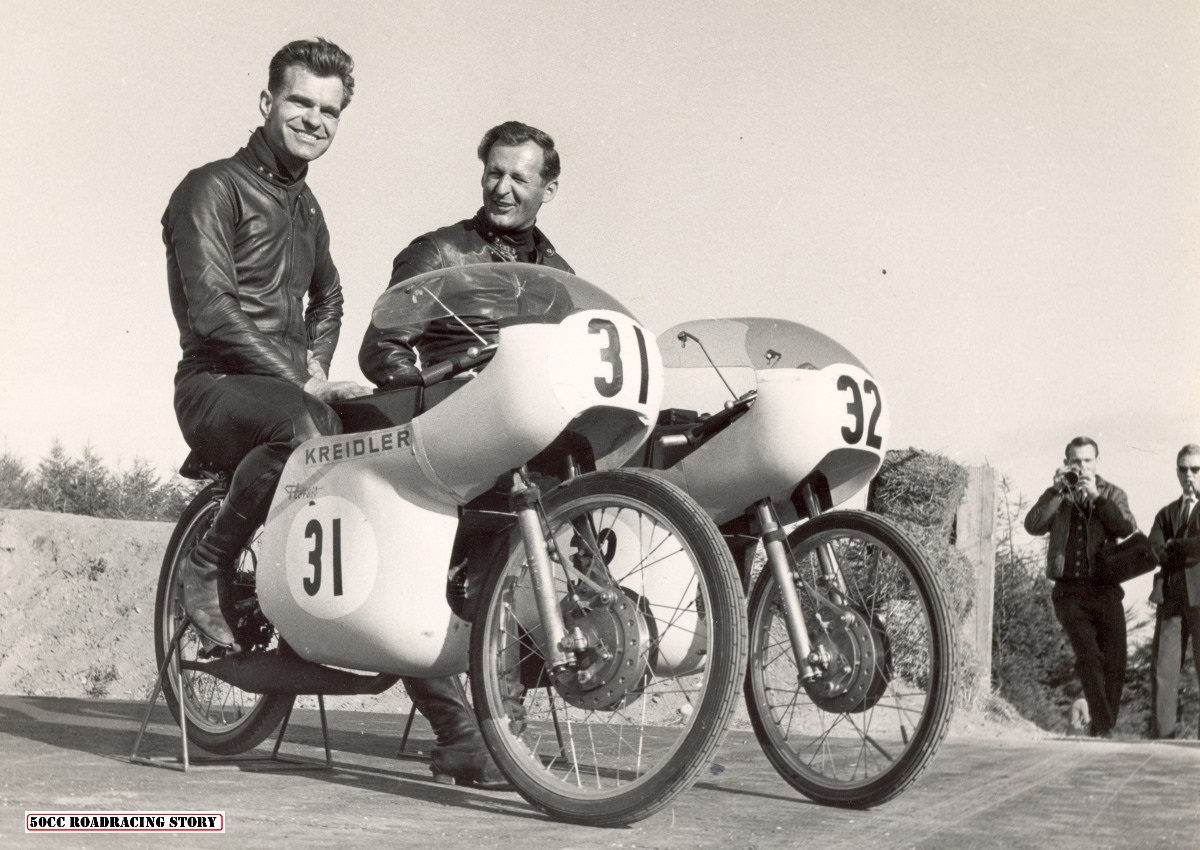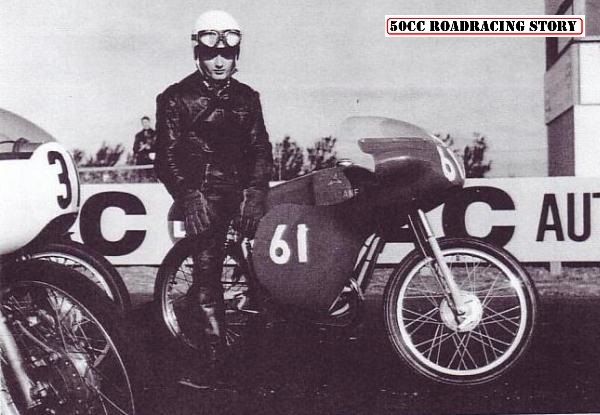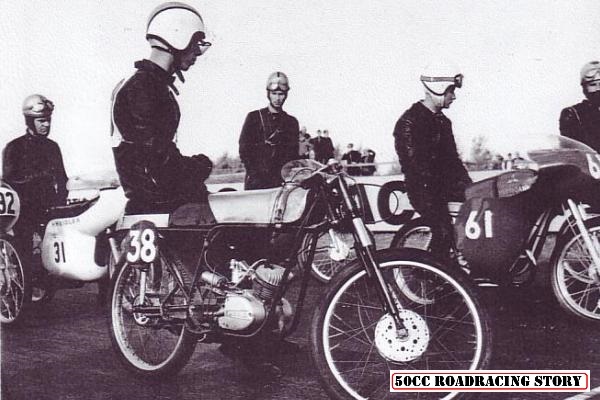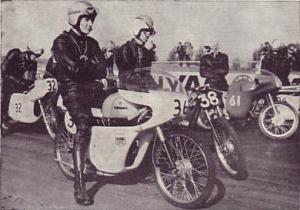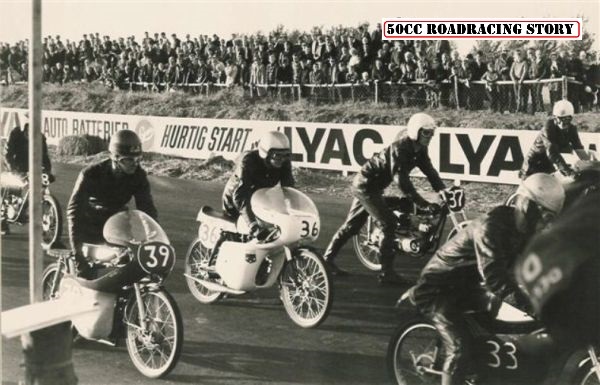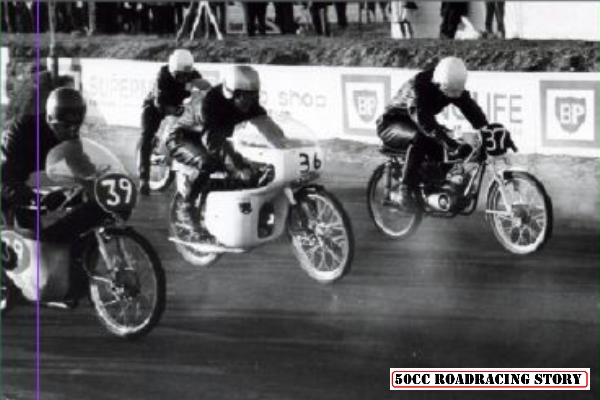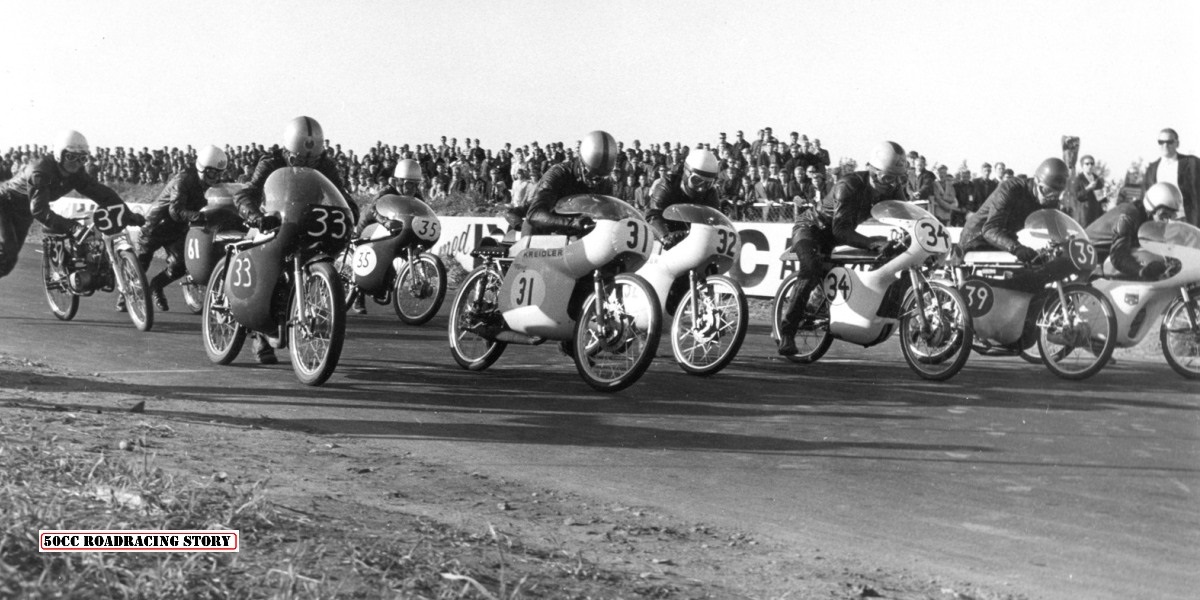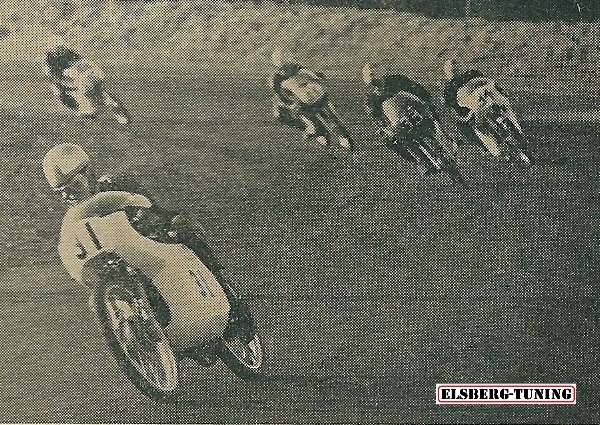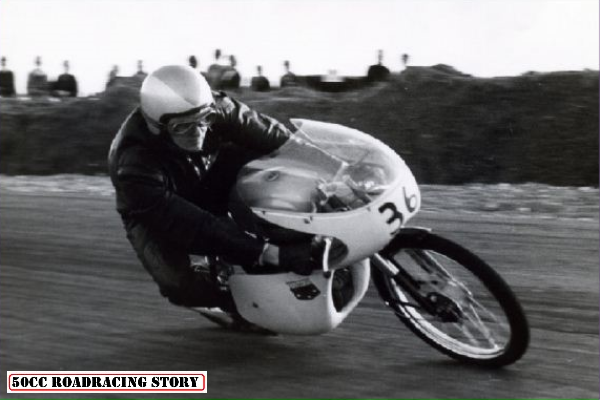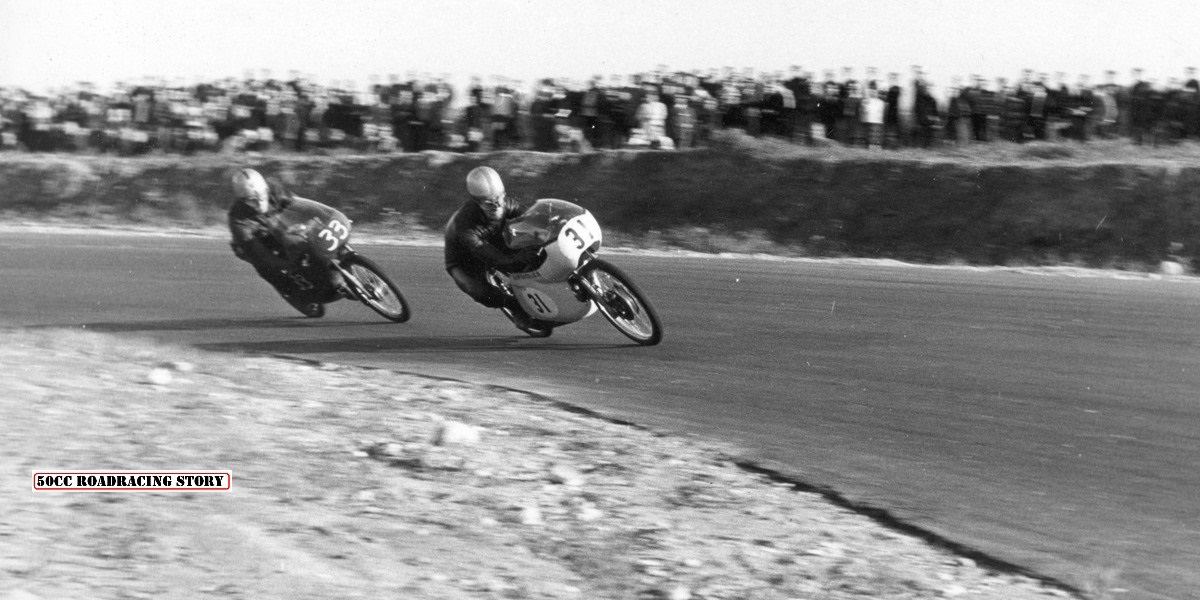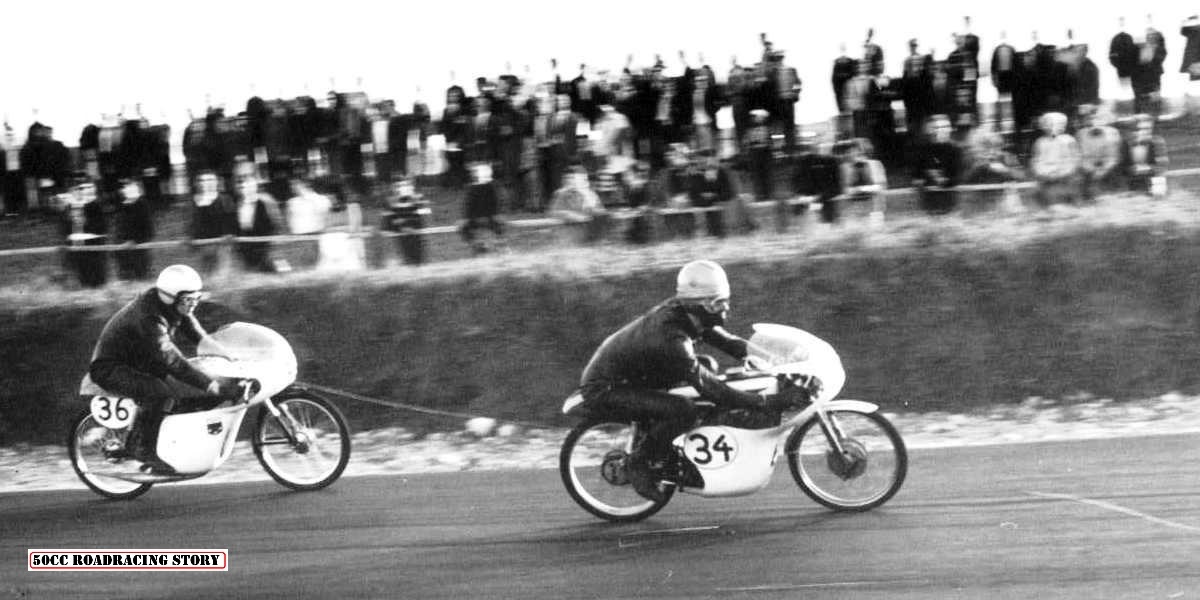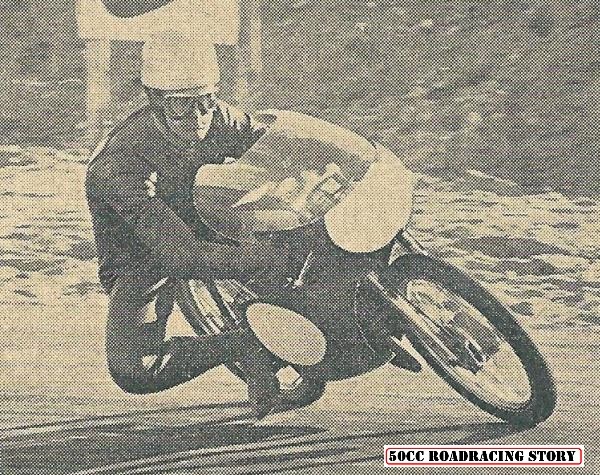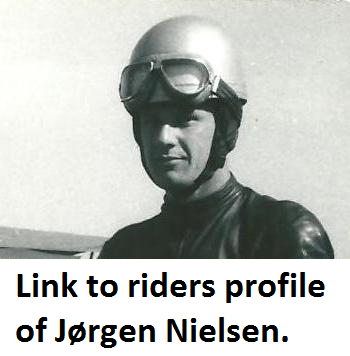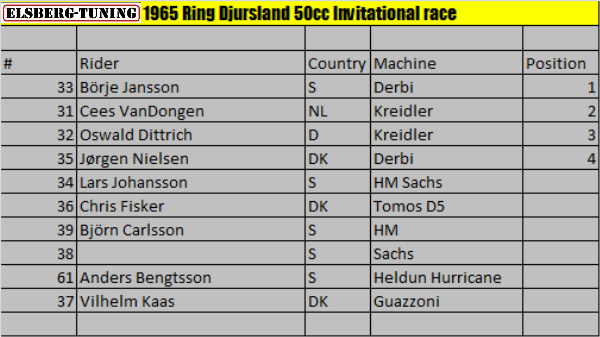 The O.E.MotorCup race, Roskilde Ring, 8th of May 1966, class under 250cc: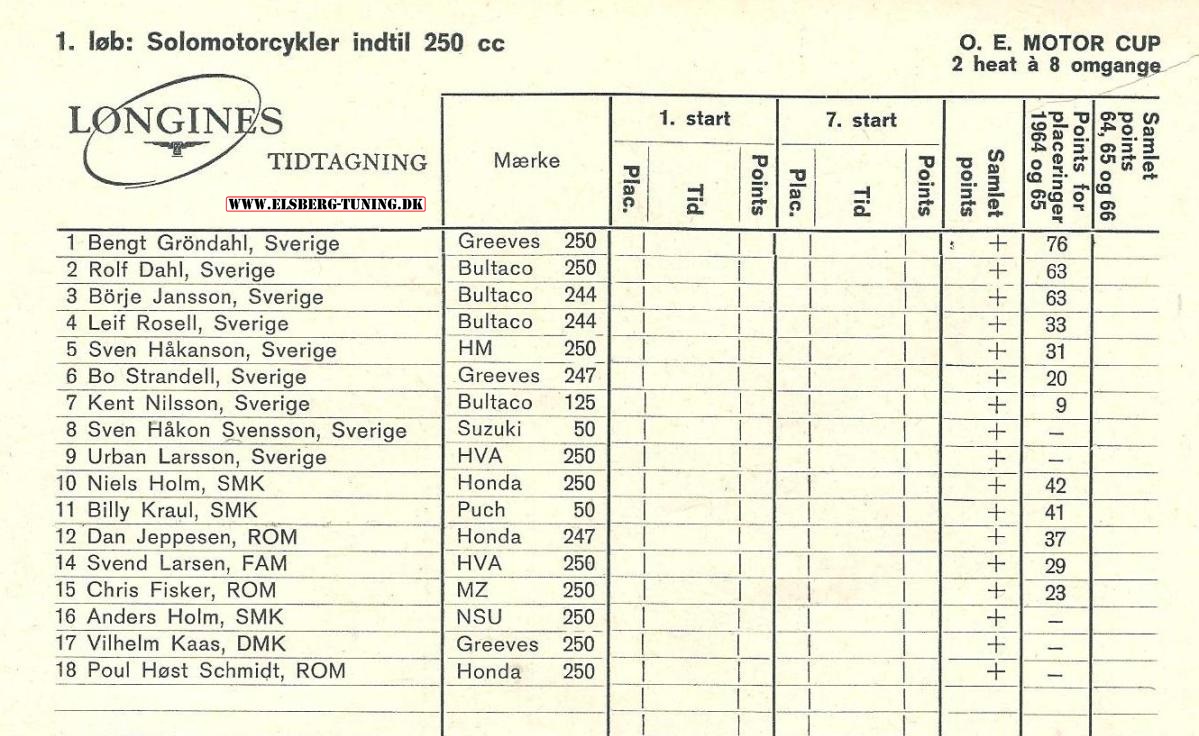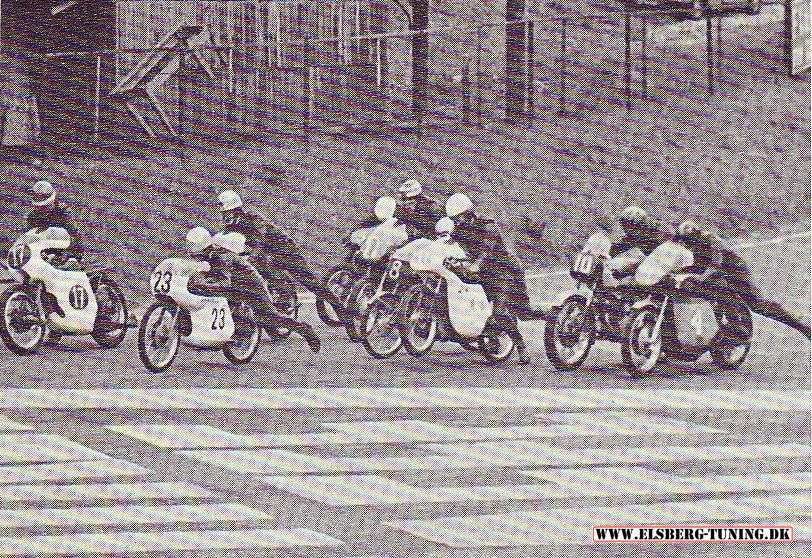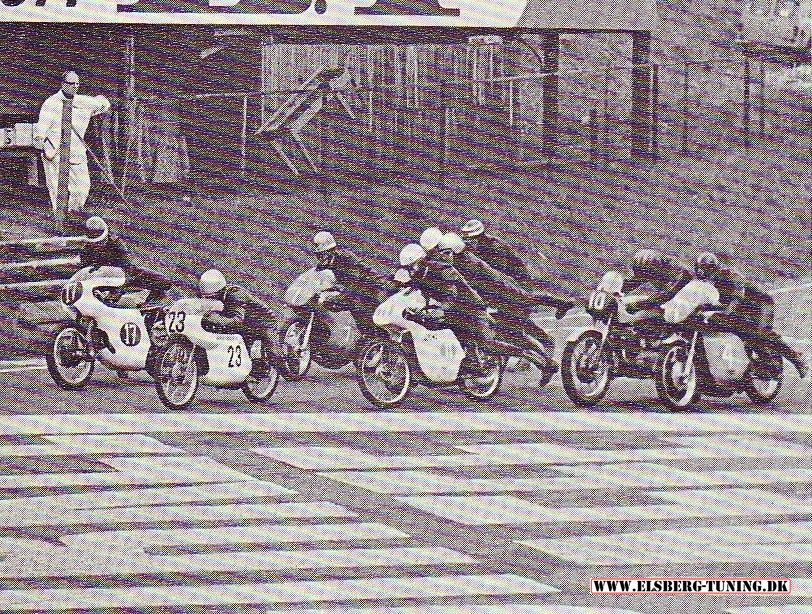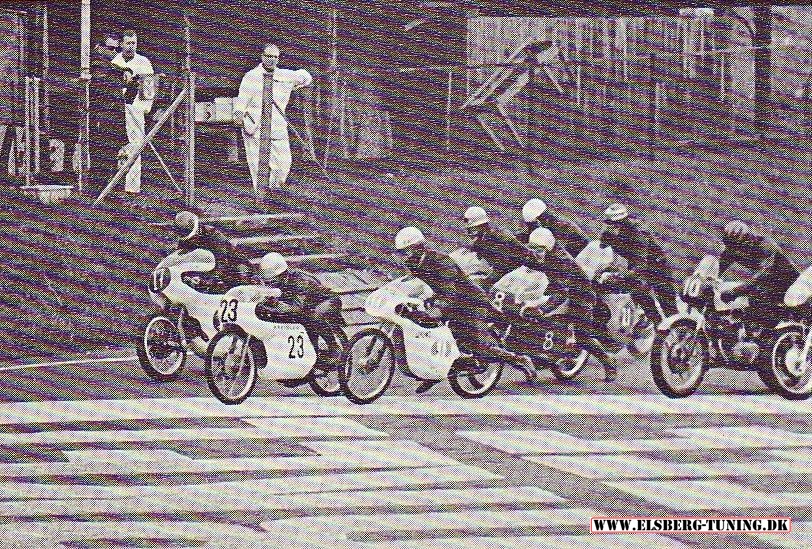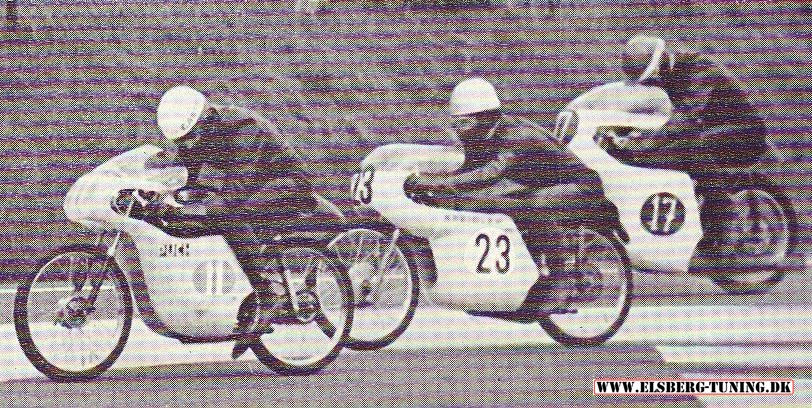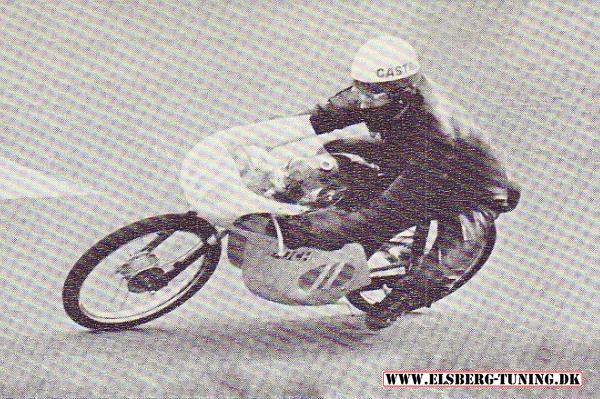 The 50cc race was cancelled in 1966 - not enough participants, but a bunch of fifty cc specials turned up for the 1967 race.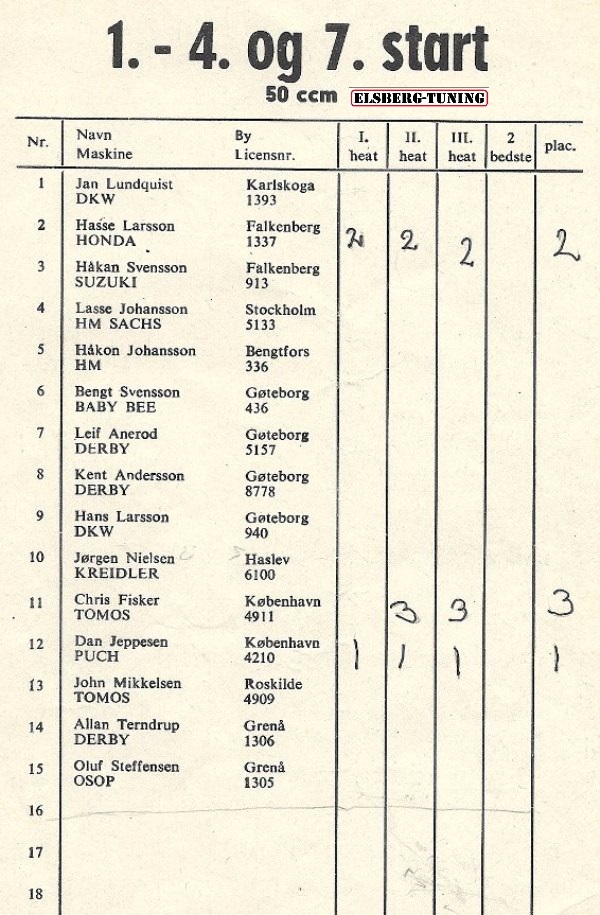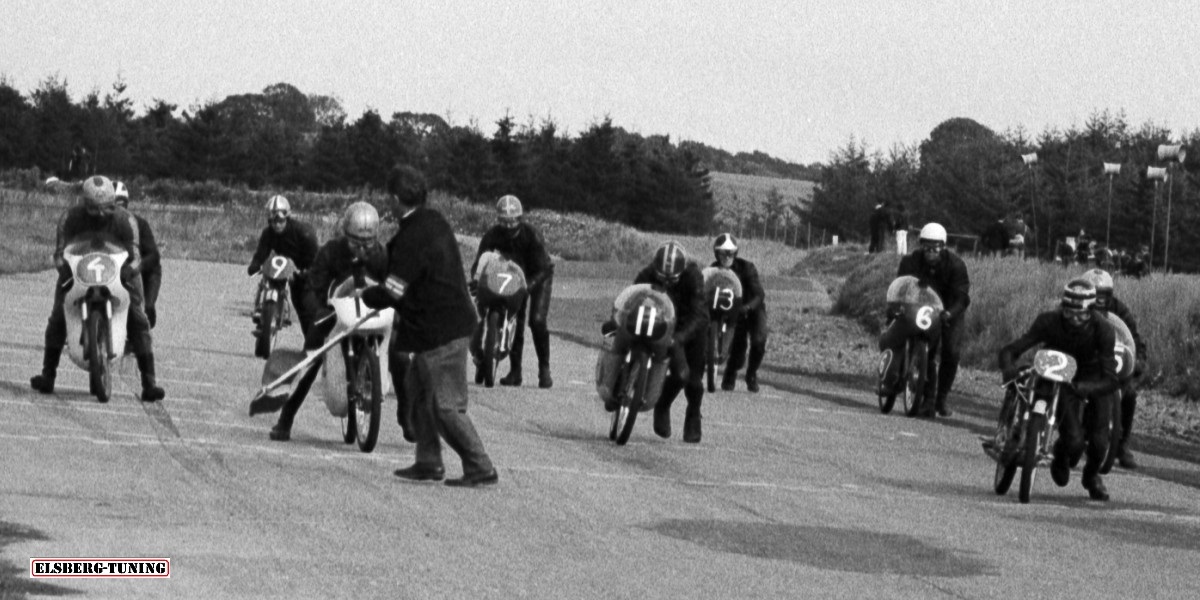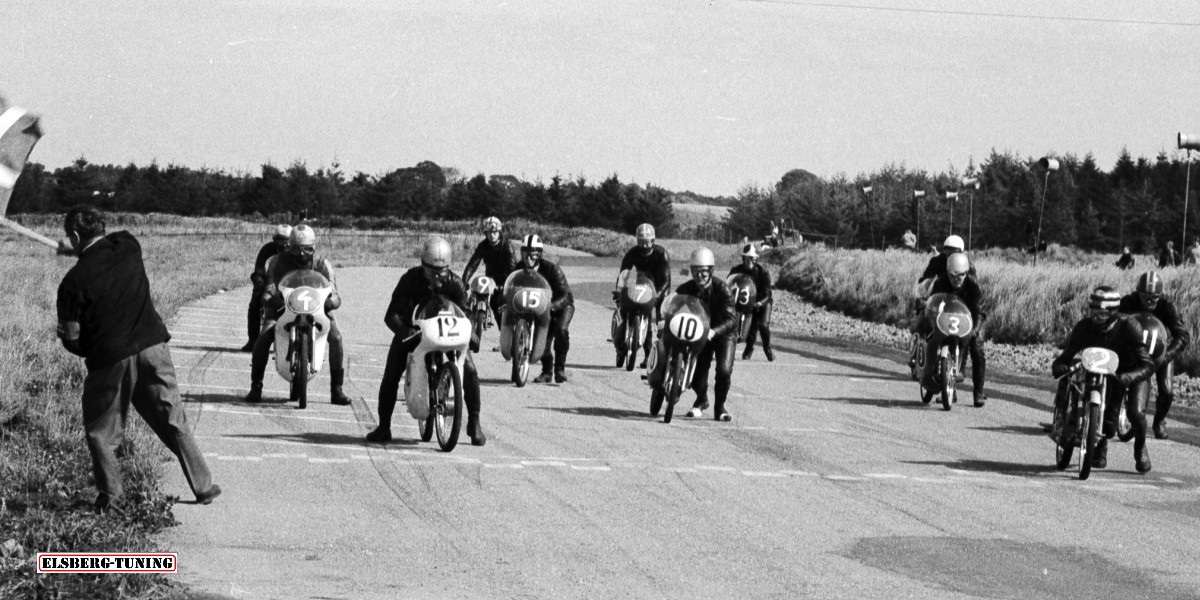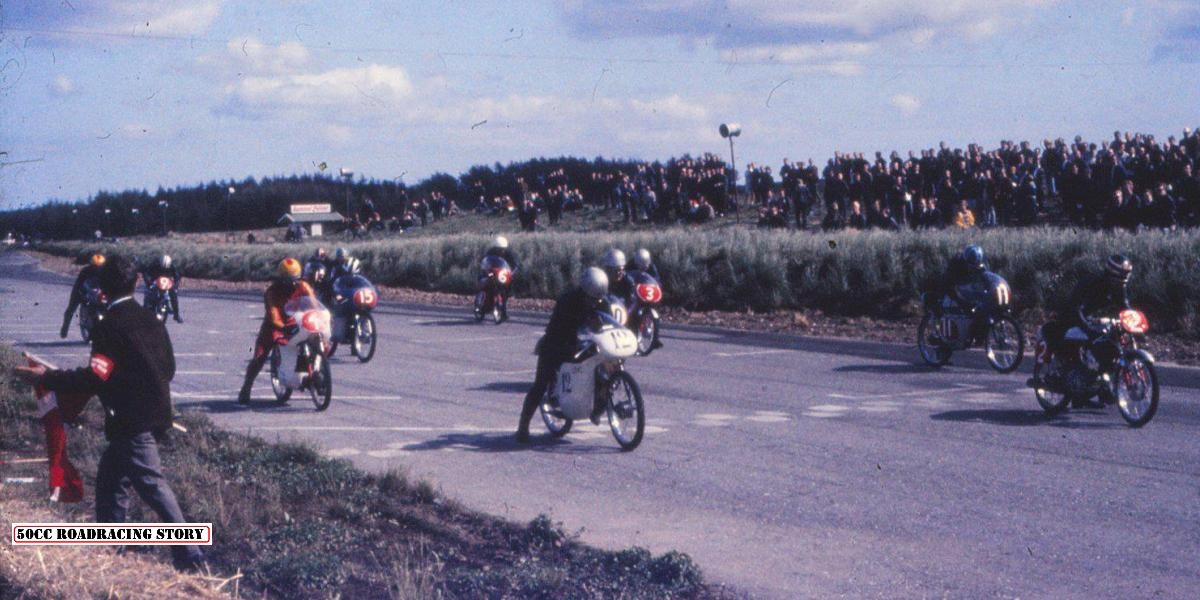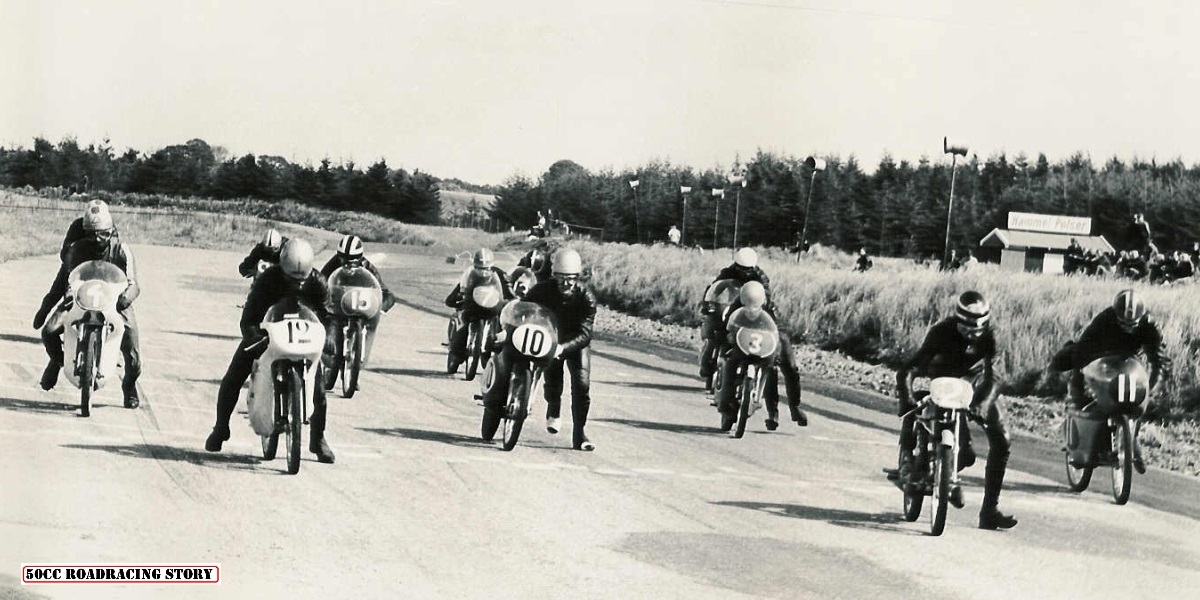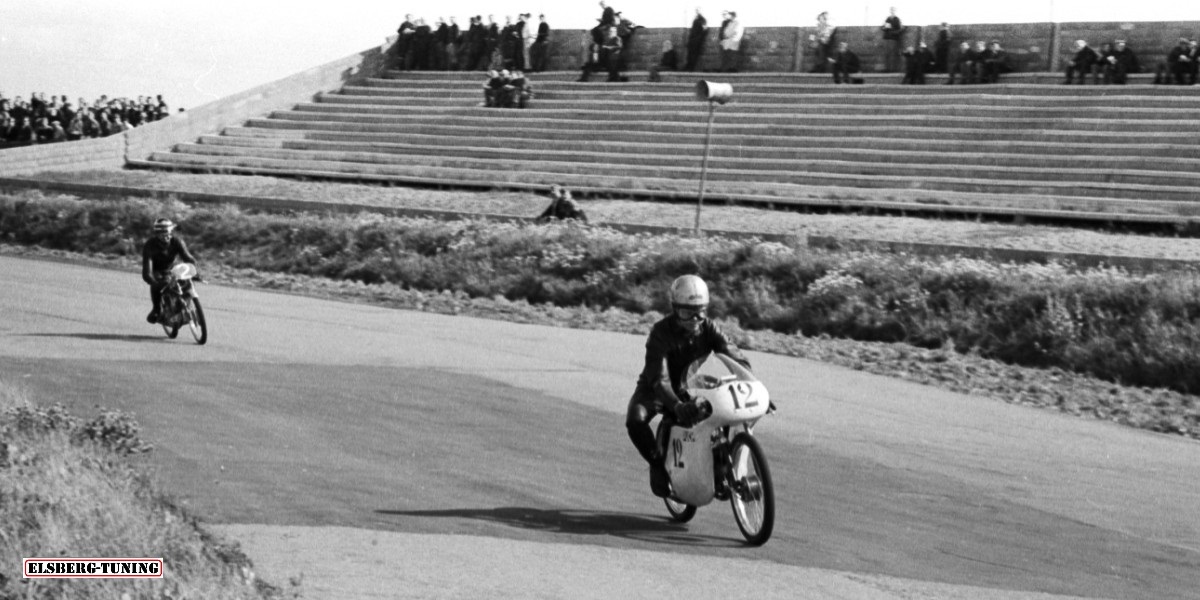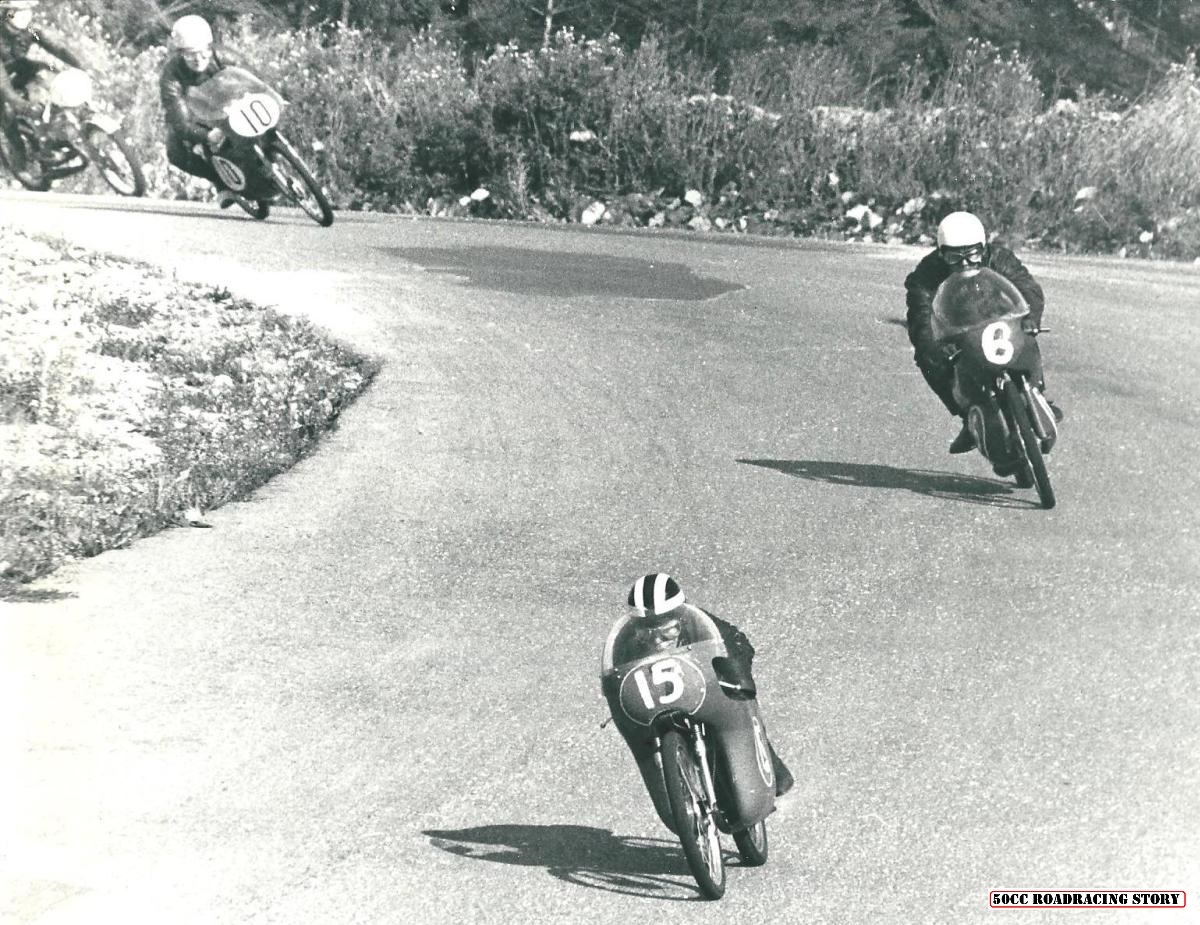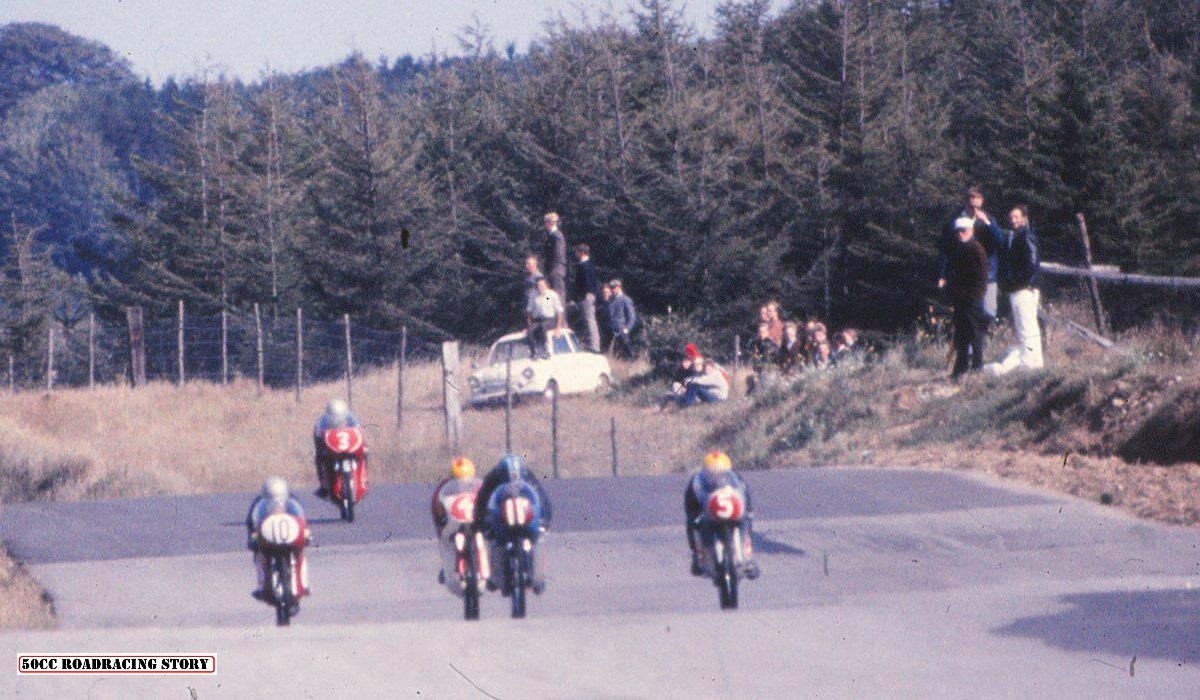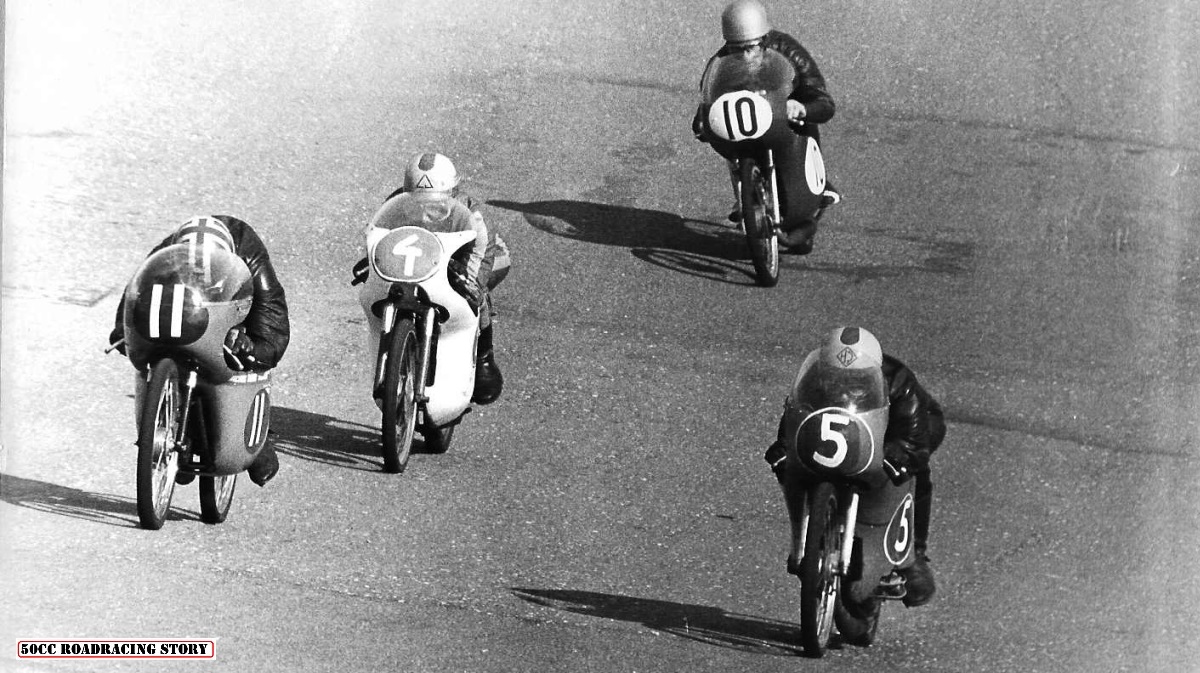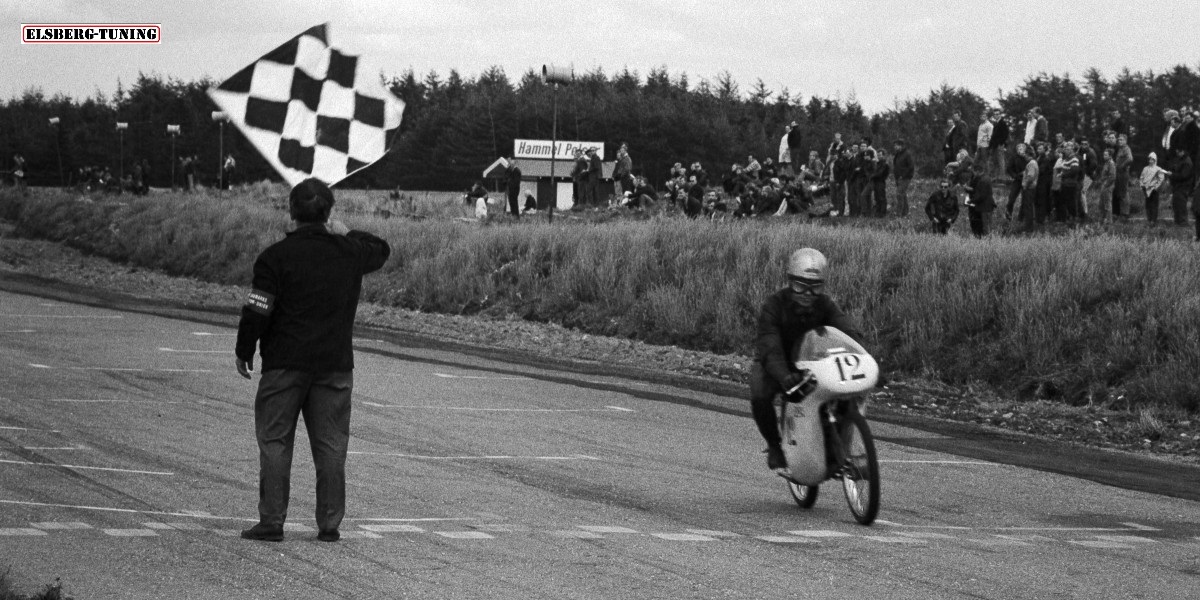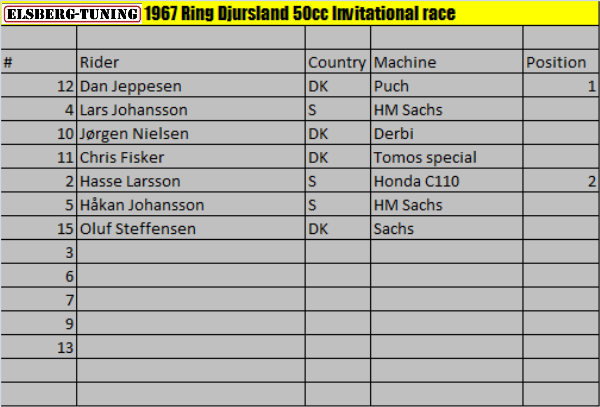 Several of these bikes are still around like the Sachs- engined special built and ridden by Oluf Steffensen, Grenå: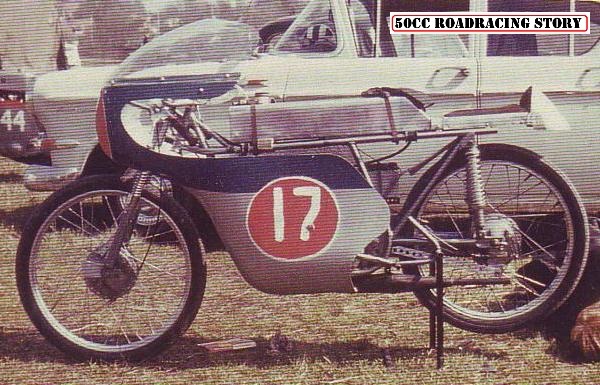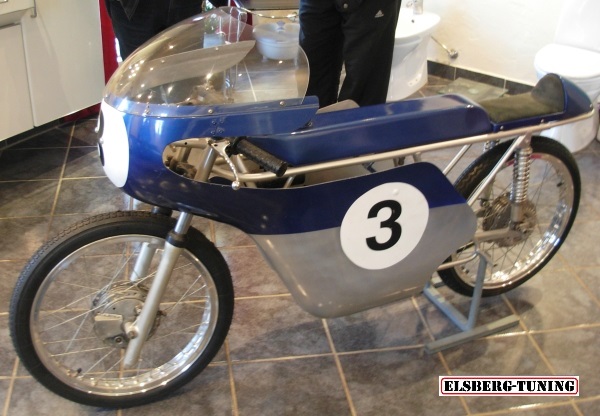 A few 50cc racers were active in the seventies where they participated in the 125class.
Poul Erik Oversø and his Fantic Minarelli: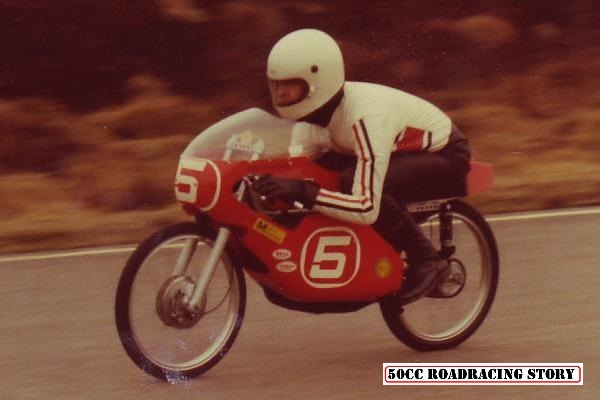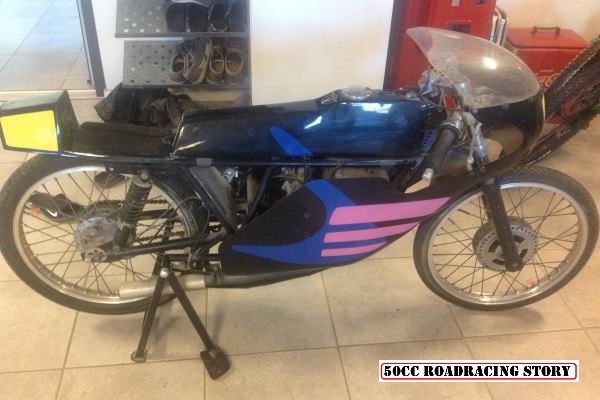 Latest known active danish 50cc racer Theis Jørgensen and his Kreidler: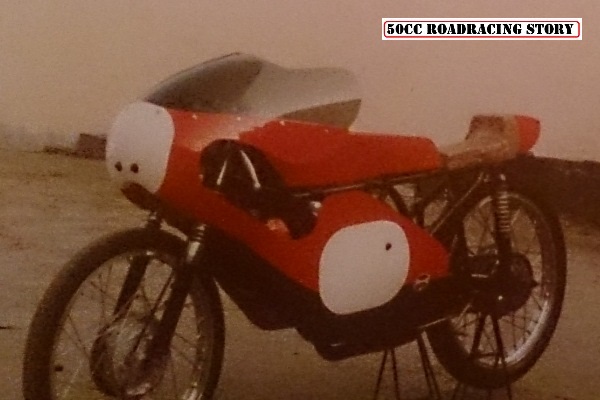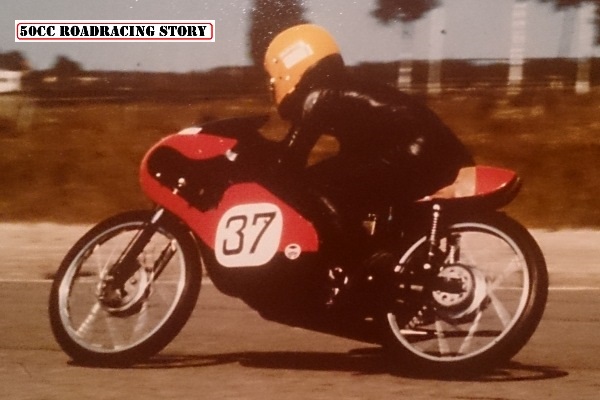 50cc racing has returned big time to Ring Djursland in form of classic racers!
And for 2013 we were enough riders to form a national championship!
Three races in all - at Ring Djursland, Padborg Park and Jyllandsringen.
First race saw these competitors:
Pictures from Saturdays race:
And sundays....
Second round of the 2013 Danish 50cc classic championship
took place at Padborg Park. Found the crank to be the culprit
of the vibration felt at last outing - and a fresh crankshaft
were installed on route to Padborg, in the well- equipped
shop of:


Arriving at the track first thing was to install the rejuvenated
engine, and finished just before the Tech- inspection turned up!!!
Friendly tech- inspector shows how its done right,
and then gave me a lesson on how to bring the right tools!
I was not really sure about the authenticity of these
tech- inspectors, having seen the other tools in their
tool- basket? Was that a chainsaw?
Competition was fierce as the guys from Classic 50 Eurocup
participated in this race too. They had their own battle
going on, and we locals could only watch and learn.

Third and final round at Jyllandsringen.

My Kreidler engine lost all traction due to a cracked
primary- pinion.
Sponsor (Mopedspeed.dk) saved the day once again!
I must say that the final race- weekend of the season
was a real cliffhanger! First outing was a qualifying heat
for saturdays race - 3/4 lap out engine cracked the primary
gear - bummer! No spares - nothing! Chose to ring a friend
instead of a Psychiatrist- he maybe had a dryclutch mounted
on an engine, and maybe it had a straight- cut primary? But
he was out of town that weekend. He called back later with
good news - his son had offered to pick up the engine and
bring it to the track - bad news was that he was busy shop
ping with the miss´es. Worst hours of my life listening to
my competitors whirling round the track lap after lap
during the second qualifying session.
The engine finally arrived and upon diassembly it was
revealed that it was in fact a straight cut primary - but
of a different ratio! Did my best to adapt the whole dry-
clutch unit to my engine and it did fit - only a very tight
fit - like no tolerance at all! Late in the afternoon now
and saturdays race were only minutes away - so I had to
decide - leathers on - go for broke! Dead last in the
lineup and a very bad start on an unknown track - managed
to finish in third place. Engine backfired through the carb
at exit of corners making more downshifts necessary - what
a mess!
Before that heat I was only a single point behind, and now
six!

A long wait for sundays race - not daring to go out at the
morning warm- up. If I hurt those borrowed pieces I was
really in trouble!
Sundays race should have been a wet one, but for some
reason it suddenly stopped raining and a dry track waited
for us - bad start again but being highly motivated by
the fact that in saturdays race, my lap- times, all problems
aside, had been three seconds faster than everyone else :o)
Now familliar with the track I was plowing through the field
and in third lap I spotted the points- leader - it took a
whole lap to pass him but I did - only to discover that yet
another were ahead. Some one and half lap later he was
passed and I finished the race almost half a lap before him!
Felt really dizzy when they ordered me to the top of the
podium - the ride of my life :o)
The bike had produced some slight drifts - nothing hazardous
- I promise!





2014



As the first championship- race of the 2014 season came closer
I had to leave the Puch- project and concentrate on the
Kreidler. The to-do list involved more than just a dust- off
as I intended to make the chassis more agile in the bends.
Axle- axle length were reduced 35mm by shortening rear
swingarm and raising steering angle a few degrees.
Engine had produced some nasty cut- outs during last season
so a thorough revision were needed. And a new primary drive/
clutch from MopedSpeed.dk.
A very wet race- weekend at Ring DjurslandMachines present at the season opener:


The dreaded and VERY annoying cut-outs haunted me once more:



Sundays Classic 50cc race video.

I did NOT find a solution to the problem before next session
at Padborg Park raceway. However, learning that several new
racebikes will join our championship later this season sort
of cheared me up - just take a look at these:
The Padborg races were actually three different championship
races combined! Second round of the danish national 50cc
championship were joined by the 50cc Eurocup- boys and the
new 50cc FreeTech class.

Onboard video from saturdays race:



Race 1 video




Sundays:



Race 2 Video



Third and final round of the 50cc classic roadracing championship:

Onboard video from saturdays race:



Race 1 video

Sundays race:



Race 2 video






2015



Went to the season opener with a friend. Peter being a rookie
soon became so familiar with the racebike on loan,
that he ended up as a podium finisher! The ex-
Honda, now Kreidler- engined racebike were
strong all through the weekend.
















Onboard video from saturdays race:



Onboard video: Race 1




Onboard video from sundays race:



Onboard video: Race 2.

Had the frame back in the jig and - everything checked out okay :o)
I have to stay on the wheels from now on!!!










Participated in the Roskilde Ring jubilee races and
Copenhagen Historic Grand Prix doing motorcycle demo- runs
Here´s a link to onboard video:





DeJager Kreidler at Copenhagen Historic Grand Prix.








Televisions- view of Sundays demo- run.












Second round of the championship races took place
on the lovely RingDjursland track.
A VERY wet weekend were ahead with non- stop rain
friday through saturday, and even well into sunday!
Saturdays race brought a new experience - with that
much water on track, my discbrake combo rendered
useless! Brake- lever and pedal were rock- hard -
I couldn´t even block the rearwheel with that 210mm
disc, which on a dry track normally demands a very
delicate touch?
Only way to slow that damn thing down were to use
the little engine braking a twostroke offers - bummer!
Qualified on pole but ended up in third place.







Saturdays race- recording.






Sundays race were much better, but I was rewarded
with a 20sec penalty due to a stupid jump- start!
Only chance of winning were to finish twenty
seconds ahead, but I only managed to reel- in
some fifteen seconds and was relocated to third
place.
This was later changed to a second place finish
due to another riders unfortunate disqualification?

Youtube link to sundays race.






Third and final round took place at Jyllandsringen.
As the Classic-TT event were both an invitational
race and the final round of the UEM european cham-
pionship, a few foreigners turned up :o)
Following pictures (pictures by Tim Christensen)
shows all participants in the 50cc field:







Classic TT Heat 1.








Classic TT Heat 2.






2016